The INNER JOIN selects all rows from both participating tables as long as there is a match between the columns. An SQL INNER JOIN is same as JOIN clause, combining rows from two or more tables.
syntax:
SELECT * 
FROM table1 INNER JOIN table2 
ON table1.column_name = table2.column_name;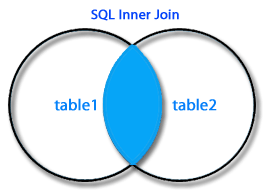 example-
Here is an example of inner join in SQL between two tables.
sample table-Foods
+---------+--------------+-----------+------------+
| ITEM_ID | ITEM_NAME    | ITEM_UNIT | COMPANY_ID |
+---------+--------------+-----------+------------+
| 1       | Chex Mix     | Pcs       | 16         |
| 6       | Cheez-It     | Pcs       | 15         |
| 2       | BN Biscuit   | Pcs       | 15         |
| 3       | Mighty Munch | Pcs       | 17         |
| 4       | Pot Rice     | Pcs       | 15         |
| 5       | Jaffa Cakes  | Pcs       | 18         |
| 7       | Salt n Shake | Pcs       |            |
sample table-company
+------------+---------------+--------------+
| COMPANY_ID | COMPANY_NAME  | COMPANY_CITY |
+------------+---------------+--------------+
| 18         | Order All     | Boston       |
| 15         | Jack Hill Ltd | London       |
| 16         | Akas Foods    | Delhi        |
| 17         | Foodies.      | London       |
| 19         | sip-n-Bite.   | New York     |
To join item name, item unit columns from foods table and company name, company city columns from company table, with the following condition -
1. company_id of foods and company table must be same,
the following SQL statement can be used:
Query:
SELECT foods.item_name,foods.item_unit,
company.company_name,company.company_city
FROM foods
INNER JOIN company
ON foods.company_id =company.company_id;
Output
ITEM_NAME                 ITEM_ COMPANY_NAME              COMPANY_CITY
------------------------- ----- ------------------------- --------------
Chex Mix                  Pcs   Akas Foods                Delhi
Cheez-It                  Pcs   Jack Hill Ltd             London
BN Biscuit                Pcs   Jack Hill Ltd             London
Mighty Munch              Pcs   Foodies.                  London
Pot Rice                  Pcs   Jack Hill Ltd             London
Jaffa Cakes               Pcs   Order All                 Boston
0Comment