PROCESS CONTROL BLOCK
There is a Process Control Block for each process, enclosing all the information about the process. It is a data structure, which contains the following :
Process State - It can be running, waiting etc.
Process ID and parent process ID.
CPU registers and Program Counter. Program Counter holds the address of the next instruction to be executed for that process.
CPU Scheduling information - Such as priority information and pointers to scheduling queues.
Memory Management information - Eg. page tables or segment tables.
Accounting information - user and kernel CPU time consumed, account numbers, limits, etc.
I/O Status information - Devices allocated, open file tables, etc.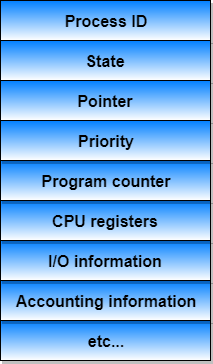 0Comment